A Compassionate Team Ready to Answer Dental Implant FAQs
At Berger Dental Group, we emphasize patient education, and we can review all of your treatment options during a scheduled consultation. We will keep you involved in each step of a dental implant procedure, so you can feel confident in our services and your treatment timeline. Dr. Robert F. Berger and his team have extensive experience placing dental implants and restorations, and we are always ready to answer dental implant FAQs at our Columbia, SC office. Like many patients, you may wonder about the treatment timeline, determining candidacy, and what dental implants will look like once treatment is complete. Your dentist will take the time to address these and any other concerns you may have during your appointment.
What Are Dental Implants?
Dental implants are replacement tooth roots made of biocompatible titanium. During implant surgery, your dentist can embed these posts in your jaw. Permanently anchored in your mouth, they can support various restorations, including single crowns, bridges, and even full dentures.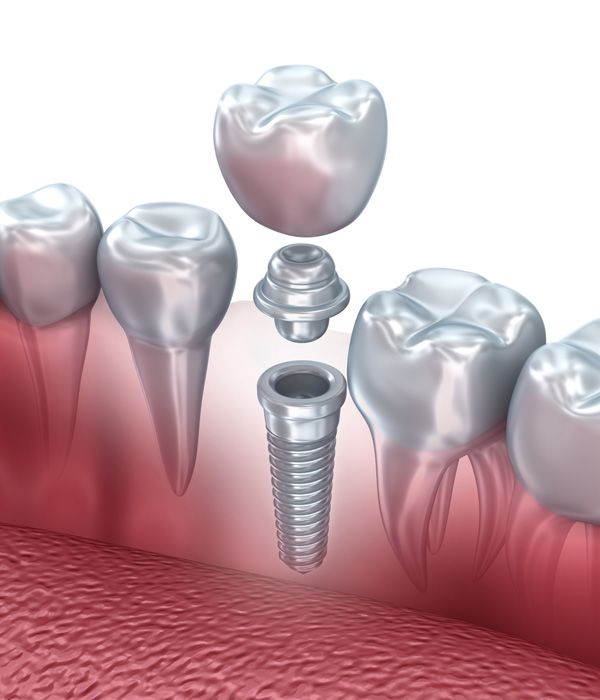 Why Do People Choose Dental Implants?
Dental implants are often considered the ultimate restorative dentistry treatment. They are much more stable than traditional dentures or removable bridges. In addition, they can more effectively restore oral function, and patients usually do not have any dietary restrictions. Implant-supported restorations also look more realistic than standard prosthetics, as they do not require plastic bases, metal clips, or dental adhesive. With proper care, implants can last a lifetime.
Dr. Robert Berger has been placing implants since 1989. He has taken over 2,000 hours of advanced post-graduate training, and he is a Fellow of the International Congress of Oral Implantologists (ICOI).
Dental implants also offer remarkable health benefits. Unlike a traditional bridge, they will not compromise nearby teeth. Furthermore, implants stimulate bone regeneration, helping patients to preserve their facial and jawbone structure.
What Is Treatment Like?
Each dental implant procedure is unique. If you have suffered jawbone recession, you may require an initial bone graft or sinus lift. During implant surgery, the doctor will place between one and eight implants in your jaw, accessing the bone through tiny incisions in your gums. Using digital scans of your jawbone, your surgeon can ensure precise placement. During the procedure, you should experience little discomfort, thanks to local anesthesia and our sedation options.
Your dentist will usually attach your restoration three to six months after surgery. In some cases, however, we can provide a same-day implant-supported restoration.
Why Choose Berger Dental Group?
When you select dental implants as a restorative treatment, it is important to choose the most skilled and experienced practitioner available. Dr. Robert Berger has been placing implants since 1989. He has taken over 2,000 hours of advanced post-graduate training, and he is a Fellow of the International Congress of Oral Implantologists (ICOI). He also teaches courses in implant restoration at The Medical University of South Carolina.
Am I a Good Candidate?
Successful implant surgery depends on several factors. First, you must be in good overall health. You should also have healthy gums, free from periodontal disease. However, if necessary, we offer many periodontal treatments that can restore both your health and your dental implant candidacy. Finally, you should have a strong and healthy jaw. If you have lost jawbone tissue, a bone graft will often reinstate your eligibility for implants.
How Much Do Implants Cost?
Because implants treatment is so personalized, costs can vary widely. Your total cost will depend on several factors, including:
The number of implants you receive
The type of sedation you choose
The size of your restoration
The material of your prosthetic
The need for a bone graft or sinus lift
Post-surgical treatment
Before treatment, we can provide you with a treatment estimate, so you can make a fully informed decision about whether implants are right for you. We can also review our third-party financing and in-house payment plans.
Contact Us with Any Other Questions
At Berger Dental Group, we are committed to helping patients achieve optimal oral health and a beautiful smile. To learn more about dental implants, contact us online or call (803) 787-9793 to speak to a member of our team.